Waste Disposal – AVIA Containers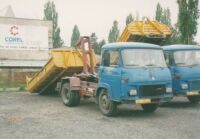 The range of services that we offer to our clients also includes waste disposal – we take care of removal and subsequent disposal of waste materials at contract-based dump yards, waste depots or waste transfer stations. Among other, we especially dispose waste classified in category O (rubbish, concrete wastes, household refuse, furniture, plastics, insulating materials, mixed waste, biological waste), and additionally some types of waste ranked in N category (asbestos-cement material, asphalt boards, tyres, electronics, electric appliances). Our clients in households and businesses obtain formal certificates of discharged waste in compliance with the decision of the Department of the Environment of the Prague City Hall granting the approval for the operation of mobile facilities for collecting and purchasing of waste.


Our company uses Avia Novosedly containers for the transport and disposal of waste, and the containers are available in three categories accordingly to the volume, 3m3, 5m3 and 9m3, effective weight 3000 kg. We take care of removal and disposal of building rubbish in compliance with the Waste Disposal Act.
AVIA 31K – single-arm container carrier, carry capacity 3 tons.

Container bin types:

· tanks with tailgate 3,5cbm

· platform-type container carriers with tipping sidegates

· high-volume containers

· Waste transport with Avia containers, effective weight 3tonnes. Price rates for Prague locations (prices without VAT)…

· rubbish collection, transport and disposal

· municipal waste transport and disposal with containers of 3-9 cbm capacity


1. clean rubbish (bricks, concrete, plaster, soil, excavated material)

2. waste, unsorted, light (3m3 to 9m3) under 1tonne

3. waste, biological (wood & tree waste, grass, leafage), 9m3 under 3tonnes
4. special waste and hazardous waste disposal (millboard, tyres, electronics)
Prices are set by agreement.